Upon your sign in to the portal, you will see your corporate dashboard. It is an overview of your whole HealthMetrics portal.
1. On top left, you will see your:-
i. Name
ii. HealthMetrics corporate code
iii. HealthMetrics company name
2. Below it there's a list of the menu bars - This tab provides you with a bird's eye view of your employee healthcare benefits utilisation across your company. Depending on what plan are you on, the list of menu bar is set accordingly.
3. Credit limit & balance dashboard terminology are as follows:
Collateral Amount: Collateral amount it the total amount that the company placed with HealthMetrics for employees of the company to enjoy cashless benefits. In this case , HealthMetrics is the third party that ensures that all the services that have been rendered at the panel by the companies will be paid.
Approved Credit Limit: The amount approved by HealthMetrics as your company credit limit.
Available Balance: The sum of the total escrow that was placed with HealthMetrics subtracting both open balance and unbilled amount. Once this available balance reaches nil, employees of the company will not be able to enjoy cashless benefits at our panel.
There are 3 colours indicator for Available Balance as follow:
Green: Sufficient balance is available
Orange: Available Balance is at 30% and below
Red: Available Balance is at 10% and below
On-Hold Amount: The reserved amount allocated for your employees once they have done their check in at our panel.
4. Billing overview dashboard terminology are as follows:
Open Balance: Signifies all invoiced/billed amount of the services that has been rendered by the panel. The invoices are billed twice a month (middle and end of the month) and the combination of all unpaid invoices will fall under open balance.
Unbilled Amount: Signifies all treatment that has been incurred by employees of the company at the panel that has not yet reached the billing period (middle and end of the month)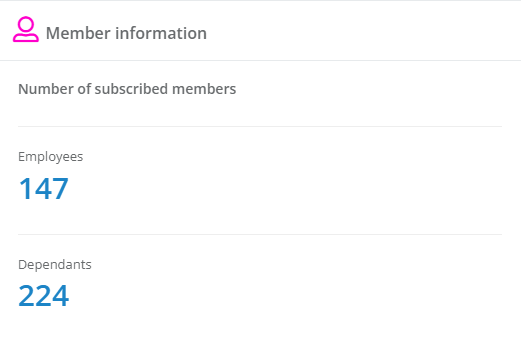 5. Member Information: It shows the number of active employees/dependents in your HealthMetrics portal.
6. Member App includes the unique 6-digit registration code required for account registration in the HealthMetrics Employee App while the total app user shows the number employees who has registered their HealthMetrics account via HealthMetrics Employee App.
7. Bell icon for notifications from HealthMetrics, change of language can be done and Logout button available in the portal.

Scroll down to the bottom, you will see the bar charts and the pie charts for the activities done by your employees under HealthMetrics services. Filter function is available for you to customize your data.
Example of the bar charts available in your dashboard

To view understand more, please see below (sign-in required):
1. Sign In Guidelines - To Access More Articles
2. Corporate Dashboard - Further Defined